by Nicole on March 16, 2015
So, this was supposed to be the Plantain tunic I talked about wanting to make. As soon as I finished it, I tried it on with leggings, but it wasn't as drapey as I'd hoped, and I wasn't feeling it. I took off the leggings, and then realized that I liked it way better as a dress! Actually, I'm fairly surprised how much I love this dress, because it's not usually a silhouette I gravitate towards. I tend to go for fit-and-flare dresses, always with very fitted waists, and usually knee-length. But I feel like the proportions of this work pretty well for me, so now I plan on making a bunch more.
The pattern is the Deer & Doe Plantain, of course. This time I made a size 46, and I like the fit in the arms and shoulders much better. I've been noticing on a lot of my shirts that my shoulder seams sits too far back, so this was my first attempt at making a forward-shoulder adjustment, and it came out great! I also used Heather B.'s awesome tutorial for adjusting the sleeve, and it was perfect. Now that excess in the front is finally gone, and the back sleeve has fewer wrinkles. YAY for learning proper fitting!
To make this dress less "traditional t-shirt", I opted not to topstitch the neckline, and I just used a small zigzag on the sleeves. I also decided against hemming the dress, as I actually really like how it looks with that little roll at the bottom. Not gonna lie, these decisions were based first on my laziness, but I think they really add to the overall look of the dress.
To extend the Plantain into this little mini-dress, all I did was extend the hemline about 9 inches, following the same curve. I'll need to add a little length if I do want to hem future versions, but any longer and I think the dress risks venturing into nightgown territory. And obviously following this original hemline curve was not enough to give me the drapiness I originally envisioned, so I'll have to slash-and-spread if I still decide to make a tunic version for leggings.
I'm definitely in a TNT mood lately, so I think there will be more of these! The dress is just so easy to wear that I can see it becoming a major summer staple (I'll definitely need to go shorter on the sleeves for those versions, though).
Anyone else trying out new silhouettes or styles lately? I've found myself wanting to go a little less sweet/twee, and wanting looks that are more "understated/casual cool". (LOL at that phrase, just not sure how else to describe it.)
And here's a bonus outtake! I swear I have this confused look for at least a third of my photos usually!
by Nicole on March 10, 2015
Hi, everyone! I finally have another installment of "food rituals" for you! This time I'm featuring Novita of Very Purple Person. Novita's writing is really thoughtful, and the things she makes are so beautiful–everything from lacy lingerie to trendy coats to clothes for her puppies! I LOVE her style!
I was especially excited to interview Novita to see what a typical day of meals looks like in Japan. I'll just say I'm pretty jealous…
First off, tell me a little bit about you–where do you live, who do you live with, what do you do, what's your life like?

We're originally from Indonesia, my son and I moved to Tokyo in 2008 to live with my husband. Shortly after moving, I bought a sewing machine and restarted my old hobby. I wanted to sew a whole wardrobe for myself and wrote a blog as a sewing journal. Six years later, I still sew and blog. Those are important parts of my life now.
Last year, we started to foster dogs and finally adopted one of them. It is another activity that I love. As the dogs keep changing and each one has different needs and personalities, it gives our life changes and variations. It is also a good exercise in learning to let go and think more about others (the dogs) instead of our wants (keeping all the cute dogs to ourselves).
My life is quiet. I enjoy being alone at home after my husband and son leave to work and school. Then I can start cleaning the house, groom the dogs, and do my most enjoyable activities, sewing!
What does a typical day of eating look like for you?
Our breakfast is changing depending on the season and our mood. Sometimes I have toast with vegemite and avocado, granola with slices of fruit and soy milk, or scrambled egg and cheese.
In summer, we usually eat rice and natto (Japanese fermented soybeans), occasionally with kimchi (Korean fermented vegetables) or miso soup on the side.
In spring and autumn, we often go to the park to have breakfast at weekends. It is usually oden (Japanese stew) and breads from the convenience store.
The concept of lunch and dinner for most Indonesians is always a plate of rice plus something on the side. Some even feel that you haven't had meal yet if it is not rice. It is quite funny, sometimes I eat sandwich for lunch and still have a nagging feeling inside that I haven't had lunch yet.
I often have to go to the supermarket so I like to have lunch there. Usually it is some onigiri (Japanese rice balls) with a cup of hot green tea.
My son has lunch at school but he always wants some snacks at home, so sometimes I made some homemade snacks. His favorites are cheese brownies and klepon (Indonesian rice flour balls with palm sugar fillings).
I began preparing dinner around 7 by putting rice in the rice cooker. My son has dinner by himself around 7.30. He doesn't like meat and is a bit picky, so I try to be creative although I'm not very good at cooking. So I will make him tempeh, bakwan jagung (Indonesian corn tempura), tamagoyaki (Japanese rolled omelette), or natto omelette. Usually he will have a small bowl of salad on the side.
My husband and I have dinner around 9.30 after he is back from work. The menu is changing, some days it is grilled chicken with salad, sometimes it is stir-fried spinach or gyudon (Japanese beef bowl). When I don't feel like cooking, my husband will buy some chicken karaage (Japanese deep-fried chicken) on the way home. Of course, we always eat with rice.
My husband loves to cook in weekends, sometimes he makes Thai or Chinese food, and sometimes some pasta. One of our favorite is gai pad gaprow (Thai chicken with holy basil), and vegetarian version for my son with tofu or tempeh.
How often do you dine out, and what do you eat?
I don't really enjoy going out at night so we don't dine out very often. But we lunch out every weekends! My son really likes khao pad (Thai fried rice) at Thai restaurant. We also love to go to Chinatown in Yokohama for some delicious food. Other times we go to tenpura, sushi, or ramen restaurant.
What are your favorite foods–those ingredients you always cook with, or the things that you see on a menu that you always end up ordering?
Eggs. They very easy to cook and my son will always eat them.
What do you eat when you're alone?
On weekdays I almost always eat alone for lunch. Sometimes I eat at the supermarket or prepare a bowl of Indomie (Indonesia instant noodle) at home. For snacks, I love apple slices with peanut butter, tamarind candies, or Japanese salted fish and crackers.
How do you take your coffee/tea?
Unfortunately I don't have a good appreciation of coffee or tea. Every morning my husband and I drink instant coffee latte.
Condiment of choice?
Sambal ABC (Indonesian chili sauce).
Are there any foods you dislike?
I don't like to eat pork or too much red meat. They have a certain smell that bother me when I think too much about it.
Do you have any weird food quirks?
When I was little, I had a lot of weird food quirks and life in general. I refused to eat red colored food (strawberries, red soda, red jam, etc) and preferred yellow over other colours. I couldn't eat if the eating utensils are not from the same set, couldn't drink water in plastic cups (had to be in a transparent glass!), and lots of other things. It caused a lot of problems then because I would complain that I was thirsty, and then refused to drink when I was given red soda.
Some of the quirks got carried away until adulthood and I have been trying to overcome them. Nowadays I can eat with mismatched eating utensils if I have too, but I still cringe inside.
Favorite cocktail/beer/wine?
My favorite is umeshu, a Japanese liqueur made from ume (Japanese plum). It has a somewhat sweet taste and the alcohol content is about 10-15%. I usually drink it on the rocks in summer.
Sweet, sour, salty, bitter, or umami?
Umami!
Note: All photos in this post were taken by Novita Estiti.
***************************************************************************
Previous installments of "food rituals":
by Nicole on March 3, 2015
After the success of my first pair of Ginger Jeans, I quickly jumped into making a second pair. For this version, I drafted a pocket stay, lengthened the rise by one inch, and I made a small full calf adjustment to see if it helps fix my above-the-knee wrinkles.
The denim I chose this time was another length from my stash, slightly thicker and slightly less stretchy than what I used for my first pair (I think it was 1% stretch vs. the 2% I used on round 1). "Hmmm, maybe I should baste this pair together before I get started, just to check the sizing with this different denim?" I wondered. "Eh, it's not THAT much less stretchy, I'm sure it will be fiiiine," I decided. I figured they might be a little snug, but that it would be fine once I got them on and they loosened up a little.
So then in two nights, I dutifully sewed my second pair up, all the way to the step where you finish the side seams and tack them down with some topstitching. At this point, I decided to baste on the waistband just to make sure everything was good. Pulled on the jeans, and realized…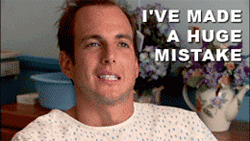 The jeans were SO tight. I was able to pull them on, but the butt/hips were so tight I literally couldn't put my hands in my pockets. And the rise was basically even lower than last time because while I could pull them on, I couldn't pull them ALL THE WAY on due to the butt being so tight. And the calves were even tighter than last time because of lack of stretch, so I don't even know if my adjustment worked. Why, oh why, did I not follow the instructions and baste before starting?!?!
To be honest, this mistake isn't HORRIBLE, because I am in the process of losing weight, so once I lose some more, these will hopefully fit and I'll be happy to have some nice jeans waiting for me. But it did bring up a question or two, so hopefully you dear readers have some advice.
1. Would basting everything beforehand have helped this issue? It seems that if it was too small during basting, the only thing I could do would be to sew with a smaller seam allowance, like 3/8 instead of the intended 5/8. Would that be the equivalent to sizing up, or would it still likely have been too tight?
2. My measurements put me in size 18, but I sewed up a well-fitting 14 using my version 1 denim. Should I be on the safe side and go back to a 16 for all future pairs, knowing I could take them in at the side seams if necessary, or should I only worry about sizing up if the denim feels thicker and less stretchy? I guess I'm just a little worried that my future pairs will all end up too small, but at the same time I don't want them to end up too big either.
3. Tell me this has happened to you too???
Thankfully, I don't really feel too bad about this. The jeans are still very well-made and I do think I'll be able to wear them one day. I think I'm going to take a small break from jeans-making to work on some less intensive projects, but I hope to come back and make a pair or two after.
So what's next? I really like Sally's Plantain tunic sweater and want to do something similar. Except winter is pretty much wrapping up in Austin, so I'm thinking just a normal Plantain with elbow-length sleeves, but lengthened to be a drapey t-shirt tunic (and actually Sally already did that too). I'm thinking it would satisfy the comfort-factor I'm looking for lately, and would look cute with leggings and Hasbeens for spring. Plus I'm pretty sure I have more knits than wovens in my stash at the moment, so I need to start working through them!